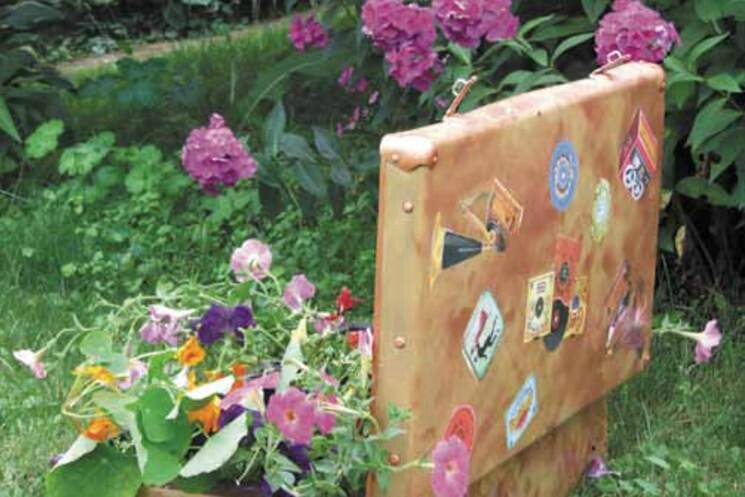 Garden - is not only "their" world, but also an element of lifestyle. Life in the country - that's life in a rustic style. And it's such an interesting life! You want to make your garden become a comfortable, beautiful, universally admired? Fill it with exclusive details handmade! Hand made today - the current trend in garden fashion, and this is not surprising: the garden and creativity are inseparable. Content elements - an important part of the image of the garden makes it special. It's like a decoration to the dress - even the most beautiful outfit requires a stylish addition to the image "formed." Even small details create a special atmosphere in the garden. All sorts of "stylish things" and accessories makes a strong "local" effect, reviving one or the other corner of the garden, making it cozy and stylish. In order to decorate the garden with his own hands, there are many interesting items. Typically, material for creative work without any problems, you will find at his dacha. Firstly, it is waste of construction materials left over from the construction of holiday homes or some garden buildings. This is the remains of plywood, boards, boards, furniture panels, block-house, as well as rail, baseboards, corners, whole and broken tiles, pipe insulation. Secondly, it is gardening tools: watering cans, buckets, shovels, barrels for irrigation, ropes for tying trees, plant containers, decorative gravel, rubber boots, garden furniture. In the third - the things that we send in the "link" to the country: old furniture, glassware, oil cloth, frames, mirrors, bags, balls, floor vases - but you never know what old things there are in the household. Also, to create a garden of accessories using natural materials: twigs, wood saw cut, cane, bamboo, driftwood, cones, and various little things: shells, stones, glass, rags and even the old computer disks. Priming. For garden accessories requires a special "building" ground. Usually it is sold in specialty stores and markets. In most cases, the soil is discharged in white or light gray, sometimes transparent. Priming help when stained "uncomfortable" surfaces (including glass, mirrors, slippery plastic, polished metal), in cases where the processing sandpaper may damage the surface. Second, the opaque primer will lead to any surface "decorative" to zero, and finally ground improves weatherability paint applied.
Paints. For decorative garden accessories can be used two kinds of dyes depending on the situation. If the product will be outdoors in the summer, you can use decorative acrylic water-based paint (sold in shops for artists and designers). The color palette of these colors is very rich, they have no smell, easy to mix, pleasant to work them. Arose in the course of the shortcomings easy to fix for 3-4 hours until the paint has dried completely. Once dry, these paints are very durable over time do not lose their decorative effect. Acrylic paints lie perfectly on almost any surface. Prior to the desired consistency acrylic paint diluted with water, it also wash the brush. In a palette for mixing different colors convenient to use a small bowl (porcelain or plastic) .After coloring product must be covered with three layers of the boat (Yachting) polish! Stained glass paints for glass. Especially spectacular view of colors that allow you to color glass, they can be used to simulate real stained glass. With these colors the glass remains transparent and brilliant. To paint does not spread on the glass, using special
The contours of the glass. Special circuits for glass come in different colors, as well as "metal": gold, silver, copper. They are designed to keep the ink from spreading stained glass and metal walls to simulate real stained glass. They are sold in convenient tubes with "noses", the diameter of the holes, "nose" in the base case generally average. But in addition you can buy different diameter nozzle to control the thickness of the circuit as desired. The contours of the glass to dry for 30-40 minutes. Matt paint on glass. Thick, opaque, usually water-based, working with them is very convenient. Dry in 2 hours. Nail glass. It is a thick lacquer synthetic resin, transparent or colored. Mainly used for priming, the final "finishing" covers and to create different effects. In principle, you can use an ordinary acrylic lacquer, but the special has a better grip to the glass.